Central Park Tower model highlights the pinnacle of luxury
The world's tallest residential building with sweeping views of Central Park has accounted for every amenity and detail. The model homes in Central Park Tower are no different as they're staged for theoretical owners. In order to create variety among the model units, the developer utilized an avatar for each model representing the kind of owner the designers should model the design after. In this case, a well-heeled couple with collections of art and multiple homes.
Walking through the space is a feast for the eyes, even after taking in the breathtaking first glimpse of the view. The Grand Salon palette is warm in contrast to the cool tones of the kitchen and family room. The dining and cozy seating areas are defined as two areas by a pair of chandeliers by Remains, and anchored by a modern fascia, floor to ceiling, showcasing a HearthCabinet faux fireplace.
Only one rug is featured, a stunning copper and blue oriental from JD Staron. This was the start of the room's scheme, giving way to the choices of copper grass cloth, butterscotch leather, velvet and rich silk pillow trimmings. Being that the view from Central Park Tower is always top of mind, additional seating at the windows was designed and fabricated to fit these areas.The glossy French polish dining table was fabricated by Keith Fritz, and the leather dining chairs are a Mary MacDonald design for Chaddock.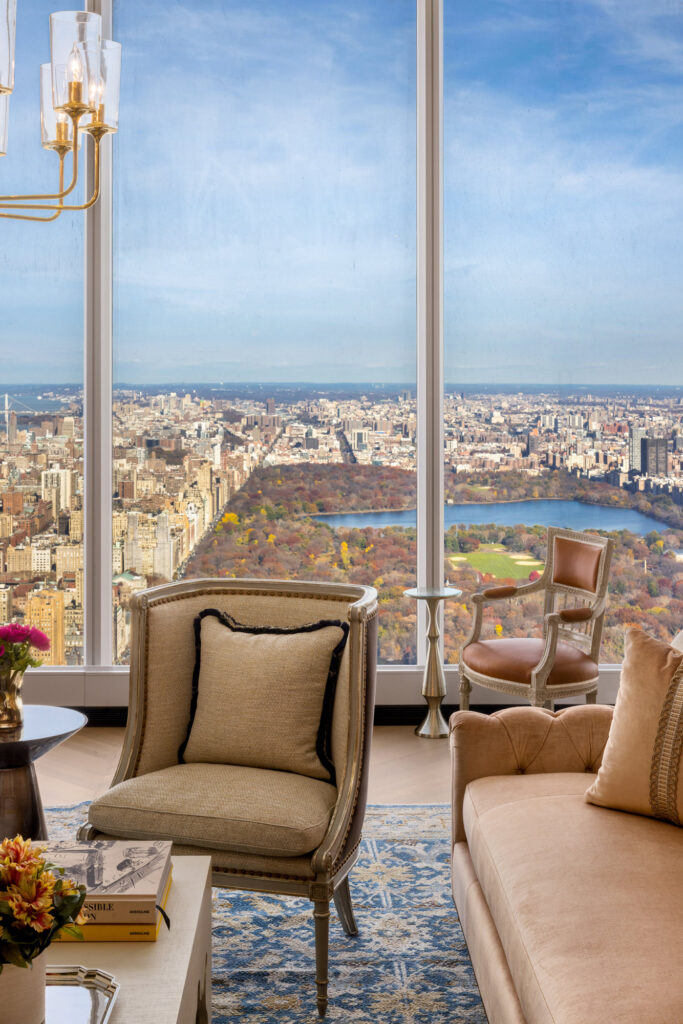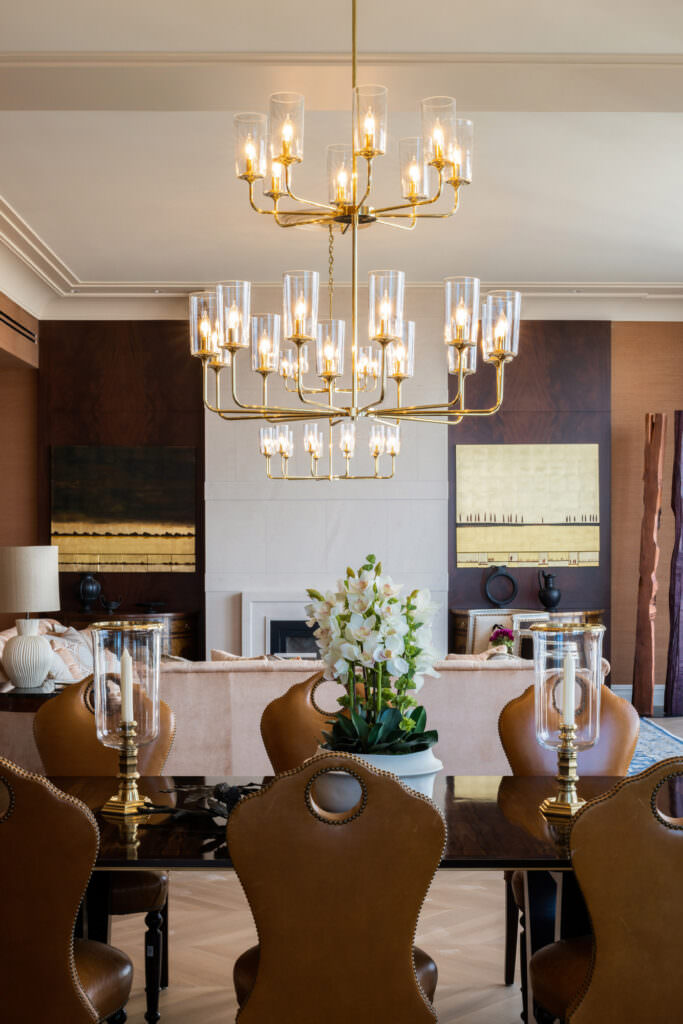 Making special items was primarily done locally in New York which offered us a bit more control in the midst of Covid. The pair of sofas, cocktail table, and kitchen dining table were all completed by local workrooms. Several in-stock and one-of-a-kind vintage items allowed us to check the boxes on our floor plan with ease.
The bedroom hall in this Central Park Tower model home again exudes warmth through the honey tones of the wallcovering and brass lighting. Two guest rooms, and the morning room are off this hall before arriving at the primary suite. The two guest rooms are for young adult children when home to visit, whereas the morning room is the perfect spot to enjoy coffee and the morning news without waking a partner.
The art throughout the home is a blend of contemporary sculpture, as well as framed pieces in different media all contributing to the modern vibe. Antiques are in harmony with new pieces mirroring the effect of the cityscape outside this exquisite home in Central Park Tower.